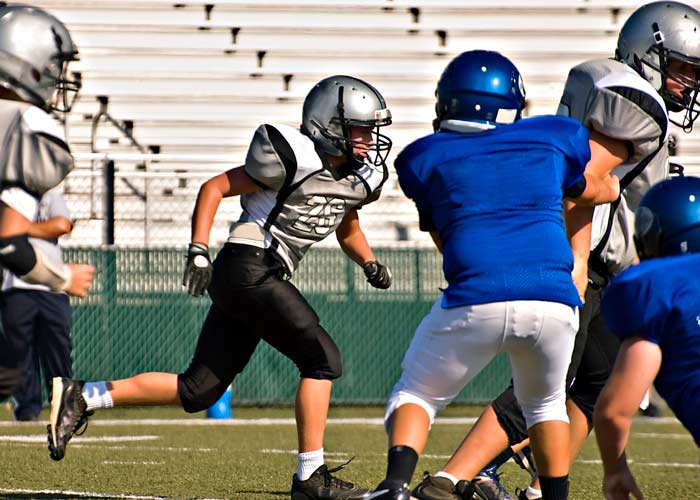 Do you play contact sports? If so, it's time to request an appointment with one of our dentists in Novi, MI. Playing a contact sport increases your risk of oral injury, which is why we recommend athletes wear sports mouth guards.
A sports mouth guard is an oral appliance that protects your teeth and gums in the event you're struck in the face or fall headfirst. Please contact our Novi dentists today if you have any additional questions or concerns.
When To Use A Mouth Guard?
The American Dental Association recommends mouth guards for:
Football
Basketball
Field and ice hockey
Boxing
Skateboarding
Gymnastics
Wrestling
Other sports that carry a risk of oral injury
Why Do You Need a Sports Mouth Guard?
Athletes tend to underestimate their risk of oral injury… until they need emergency dental care. The last thing you want is for a dental emergency to interrupt your season. Not to mention, one blow to the face can permanently damage your teeth and gums. A sports mouth guard from our office fits over your upper teeth and is designed to absorb impact.
What Can I Expect?
During your first appointment, we'll take impressions of your teeth and send them to a dental lab. When you return for your second appointment, your sports mouth guard will be ready. One of our dentists will make sure the mouth guard fits properly so you can easily breathe and talk. Our
are not only comfortable but made from tough, protective material.
How Often Should I Replace Sports Mouth Guards?
Replace your mouth guard as soon as it starts showing signs of wear and tear. For professional athletes or children who participate in multiple sports, you may need to replace your mouth guard as often as every season. You should also replace your mouth guard if your bite has changed. For example, children often need new as their jaws grow and adult teeth erupt.
Each patient is different, so be sure to take your custom mouth guard with you to your next appointment. Our dentists will examine your mouth guard and determine whether you need a replacement. The better you take care of your sports mouth guard, the longer it'll last.
Request an Appointment With Us
Our family dentists in Novi, MI, are accepting new patients! To schedule an appointment and learn if you're a candidate for a sports mouth guard, call (248) 347-3700.